As the technology advances and becomes more affordable, security camera systems are becoming increasingly more common for residential usage. From analog to high definition IP cameras to hard wired and wireless solutions, each application is different and our expert team can consult and design a video solution that will work best for you.
A professionally installed camera system by Contact Security has many advantages:
Security Cameras
The reliability, integrity and dependability of our video systems ensure that you can meet all of your existing and future security challenges with complete confidence. Our solutions range from IP and analogue cameras and domes, and digital and network video recorders, through to intelligent video analytics and sophisticated video management systems. Our cameras provide exceptional image clarity and definition whilst our video systems allow easy migration from analogue to IP-based technology.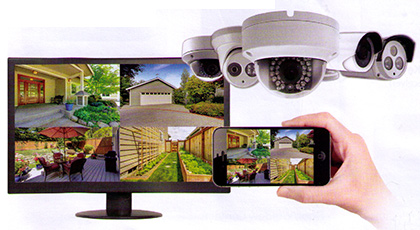 Having surveillance cameras can act as a deterrent to theft, burglary and vandalism and may even lower your insurance rates. If an incident does occur, the footage from your camera system can help authorities in their investigations.
Whether it's for your home, holiday cabin or small business, we carry and install a wide variety of surveillance cameras that suit your needs and your budget. When it comes to security cameras, every application is different and buying a camera kit at the big box store often does not give you the desired result!
When you're protecting something as important as your home or business, you need to have an expert guide you to ensure you get exactly the right product for your needs.